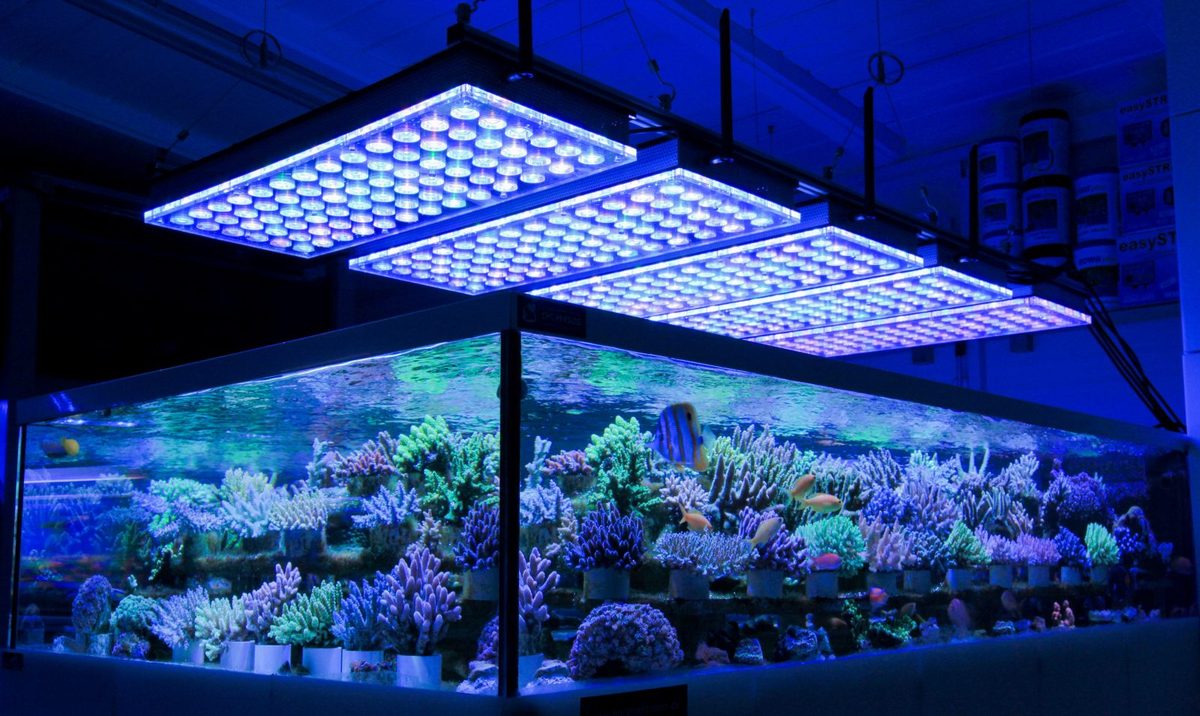 7 Best 36 Inch LED Lights For 30-50 Gallon Fish Tank/Aquarium
The best LEDs suiting 30 to 50 gallon aquariums that measure 36 inches:
 Light is very much essential for the survival of almost all living organisms.  It is the natural source of energy, mostly derived from the sun and plays vital roles in controlling the metabolism of the organism. Hence, it is important to ensure that your pets, terrestrial or aquatic must be entitled to proper lighting. That brings us into the discussion of the best LEDs suiting aquariums that hold 30 to 50 gallons of water. Such aquariums mostly have dimensions of over 36 inches and thus, the usage of the 36 inch LED aquarium light fixture would be ideal for wide spread coverage of the entire tank. This way, you can be double sure that every nook and cranny of the tank if fully illuminated and an optimum amount of light is catered for your aquatic life.
Also, Click Here to Know About 20 inch LED Lights.
But before you venture into the market seeking the best LEDs available, you must be sure of the type of aquatic life you host in your tank. This is highly essential as each of the different kind of species would have special light requirements that have to be met. A primarily fish oriented tank will need LED lights that have the capability to produce different colors so as to mimic their natural habitats.  On the other hand, aquariums that host real plants in them must be equipped with the proper lights so that these plants have enough light to synthesize their food through photosynthesis. For efficient photosynthetic rates, the lights you buy must be compatible with the PAR values and must be able to supply enough colors at the right intensity.
Checkout: Best Submersible LED Light for Fish Tank.
Best 36 Inch LED Lights For 30-50 Gallon Aquarium
In this blog, we present to you some of the best 36 inch LED lights coming from brands that fabricate different kinds of lighting all across the globe. Make the right choice and maintain a happy and healthy aquarium.
Koval Fish Tank LED Light Hood with Extendable Brackets: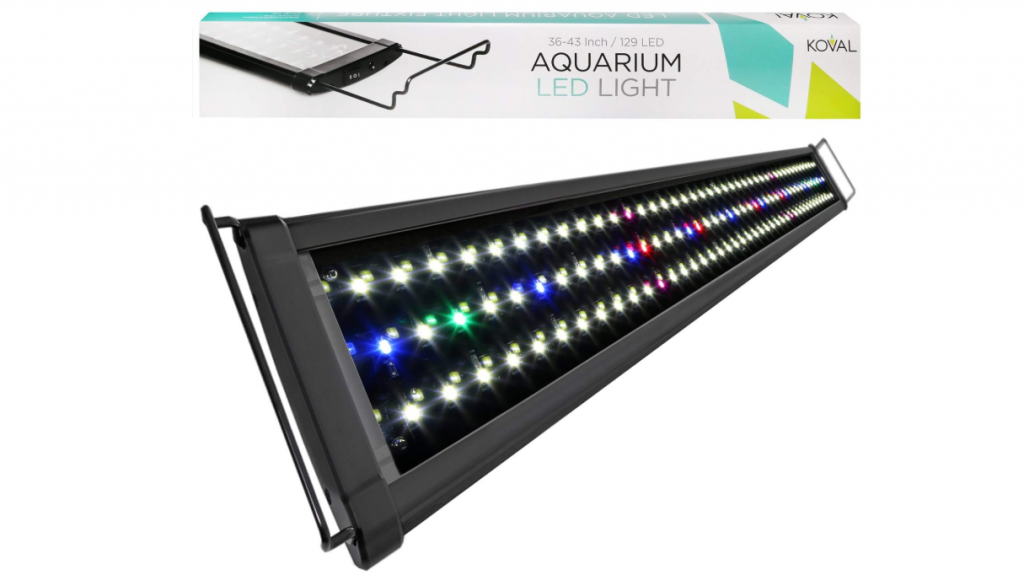 LEDs: 110 White 8000 K, 9 Blue 460 nm, 4 Pink 465 nm, 4 Red 635 nm, 2 Green 500 nm LEDs which adds up to become 129 in total
Modes: All the LEDs function during the day to produce the white daylight effect and in the nights, only blue LEDs are operational to produce a blue moon light effect. Apart from this, it can be completely switched off.
Brackets: They are extendable from 36 to 43 inches
This version of LED is ideal for a 30 to 50 gallon aquarium with fish and some low light plants
The spotlight features of this Koval brand of LED lights are its premium multi color LEDs. With over 129 LEDs attached together in one board, it has the potential to produce 5 beautiful colors in the most vibrant way possible. The blue, white, pink, red and green colors coming out from the LEDs allow a full color spectrum that really brings out the colors of your aquarium inhabitants. There are 3 different modes that Koval LED light series are capable of namely: all LEDs on, only blue LEDs on and all LEDs completely off. This is how the lights manage to bring the daylight, nightlight and off effects into play. There is a 3 position switch that makes the operation of all the three modes an effortless task.
With its exceptional capabilities, these LEDs last for at least 500,000 hours. The most surprising thing is that even after continuous operation throughout the day, you will hardly notice a hike in your electricity bills. These energy efficient lights from the Koval franchise also have excellent heat dissipation fixtures.  The extendable brackets that come along with the pack makes the lighting extremely convenient and flexible as it can be used with any size of aquariums.
Nicrew LED aquarium light for fresh and saltwater tank: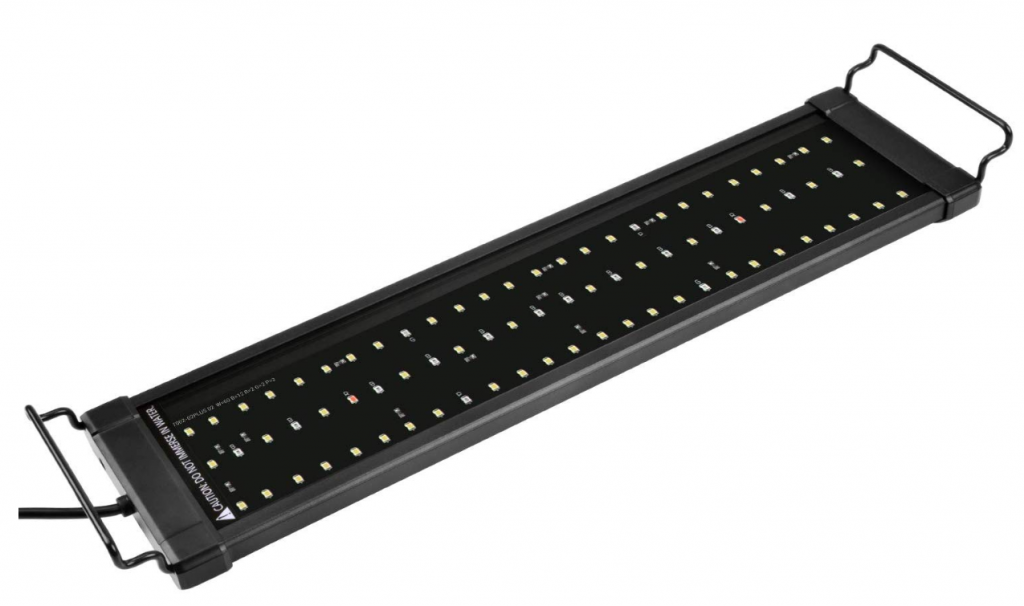 LEDs: 90 white LEDs along with 18 blue LEDs accounting for about 108 LEDs in total having 7500 K, 920 lm and 18 Watts.
Modes: The Nicrew LEDs are available in blue and blue plus white modes
These LEDs are very ideal freshwater and saltwater tanks
The pack also includes extendable brackets measuring 28 to 36 inches
In the big picture, the box contains an LED aquarium light, two extendable brackets, an adapter and a user's manual
Want to create an entrancing yet simple lighting effect for your aquarium? Then Nicrew LED light is exactly the right choice for you. All the 90 white lights and 18 blue lights come into play with its two lighting modes. The day light mode creates an artificial day like ambience using both the kinds of lights, 108 in total. However when the sun falls, the ambience of the aquarium changes into bluish environment with the blue LED lights showcasing their mind boggling magical skills. This combination of LED lights helps produce a very bright daylight for the activities of your fish at daytime and an attractive moonlight for the night time enjoyment.
Any aquarium with its length between 28 to 36 inches can make use of the Nicrew LED lights. These lights are very thoughtfully designed to be very easy to handle and use and thanks to its simple attach feature as this enables you to fix this wonder to any kind of suitable sized fish tank. However, there is one let down. The Nicrew LEDs re not designed to be waterproof and hence it is very advisable to install the light over either a glass or a clean plastic aquarium cover that protects the LED system from coming into contact with water and moisture from the tank.
Current USA Satellite Freshwater LED plus light: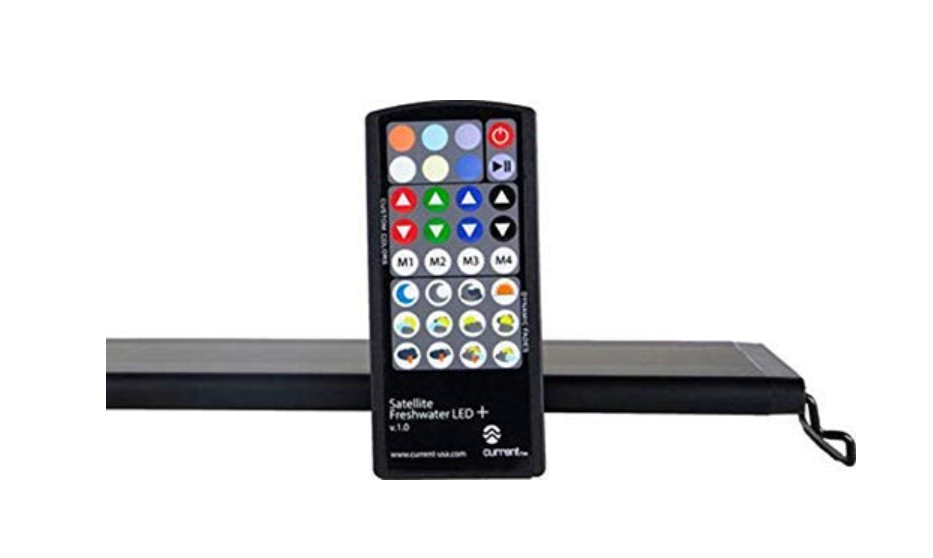 LEDs: The Current USA Satellite Freshwater LEDs have 72 white ones with 6500 kK and 36 RGB LEDs
Modes: Depending upon the type of freshwater tank you own, there are 6 preset colors from which you can choose the one which suits your taste
Apart from the different modes, there are also 4 memory slots for saving your own lighting colors including the 12 dynamic modes
The pack also includes extendable brackets that measure 36 to 48 inches
This model of LEDs are most ideal for fresh water fish tanks
Offering a wide variety of preset colors that are optimized for freshwater environments, the Current USA Satellite freshwater LEDs is one of the best and most suited LED lighting for freshwater aquariums. The 32-key wireless remote that comes with the pack of the LED lighting has full control over the 72 white 6500 K and 36 full spectrum RGB LEDs lights. Thanks to this remote, customizing these countless color lights can never be any easier.
Community, South American cichlid, African cichlid, Goldfish, Betta, Shrimp and planted aquariums – Based on the form of life your aquarium hosts, the manufacture suggests specific colors for each type. The remote has 6 color presets and each of them is respectively optimized for various types of fishes that would possibly be grown in a fresh water fish tank. The Current USA Satellite freshwater LEDs also come equipped with 12 dynamic lighting effects to surprise the user and provide him with a diverse array of choices for his aquarium. The best thing is, there modes can be paused or played on demand and they can just be controlled from your sofa itself! You done have to move an inch and the remote is very carefully and precisely designed to work on demand.
To add on to the amount of luxury and posh look these lights add to our house, the remote also allows adjustments to be made to the different color intensities of light, specifically blue and white LEDs. This adjustment can be made either independently or even together. This facilitates the user to set the lighting according to his own preferences and requirements. The customized colors can then be saved on the four memory slots offered on the remote, ready to be used anytime.
Finnex Planted+ 24/7 V2 LED light 36 inch: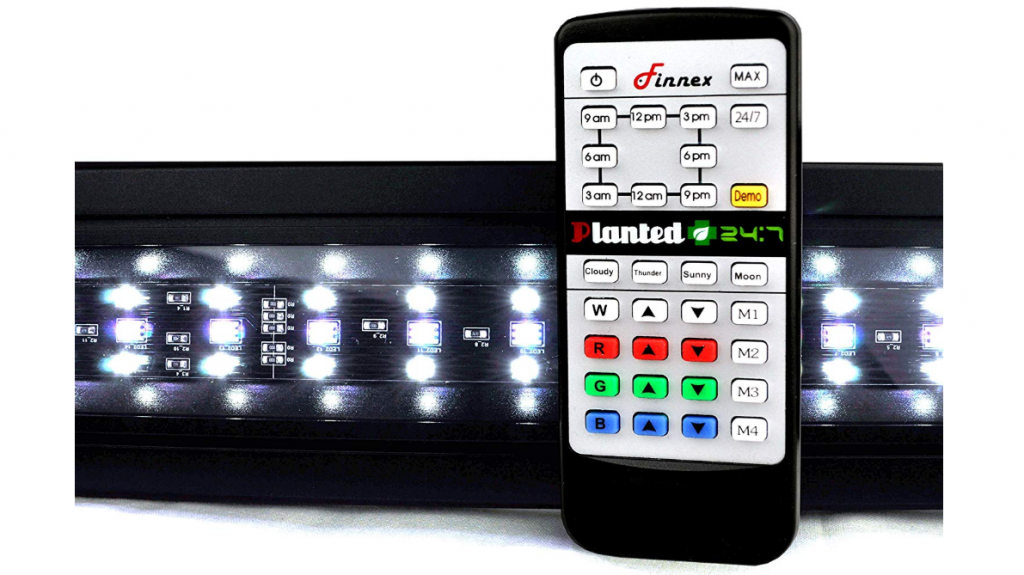 LEDs: With a total wattage of 36 Watts, the Finnex Planted + 25/7 V2 LEDs include 48 daylight, 24 red, 36 RGB cluster lights.
Modes: Four customized color modes that make daily and Weatherly ambiences possible inside the tank. There is also a fixed 24/7 automatic lighting cycle that operates based on the fixed time zone
Size: The finnex lights comes with a 36 inch fixture with clear mounting legs that can slide inwards
This light is ideal for 30 to 50 gallon planted aquariums with low to high light requiring plants
As against the Finnex Planted 24/7 fully automated model, the upgraded version which is being marketed in the name of Finnex Planted 24/7 V2 LED has a lot of improvements and mind blowing features to offer. If in case you would like to have healthy grown aquatic plants with excellent quality, then Finnex Planted 24/7 V2 LED lights is the right choice for you. To know about 30 inch aquarium light Click Here.
Normal fish tank LED lights seem to have only simple on/off modes and their roles end absolutely then and there. But this enhanced version from Finnex 24/7 CC series has numerous surprises in store for its users. For free hand control, there is a smart timer attached, customized colors of the LED lights facilitate breathtaking views of the aquarium and the best of all is its ability to grow almost all types of aquatic plants via its high output LED lamp.
This model of LED light from the Finnex 24/7 CC series is exquisitely designed to look after and extend its light and warmth to most types of aquatic vegetation. The LED bulbs fitted here have about 7000K capacity of day time light to offer which reflects how thoughtfully this device has been engineered. This day time light acts as the ultimate natural source of energy – the Sun which is highly crucial for photosynthesis to happen. These high quality LED bulbs which play a pivotal role in the development of plant life in the fish tank has about 40,000 hours of lifetime. Assuming that the bulbs are operated all through day and night i.e., 24 hours, the LED lights would still last for about four and a half years and might be even more than that.
You don't have to put yourself to work as the light is built in with a controller which makes sure that everything that goes about in the aquarium is fully automated assuring maximum user assuage. The controller that makes jobs much easier around the LEDs are preset with a 24/7 automatic lighting cycle. Considering innovation as a competitive advantage, Finnex also makes use of this opportunity to create outdoor like conditions by replicating the natural sunrise and sunset ambience in the aquarium using the light and the automated controller.
On the remote control, there are two 24/7 buttons of different colors. The one in white is the default 24/7 lighting cycle with fixed colors. These cannot be modified during later stages. On the other hand, the button in blue facilitates user customization of the lighting cycle. The memory functions of this LED device deserves great appreciations because once the timings are set, it gets stored in permanently. Even though you change to other modes and then come back to the 24/7 mode after a while, the timings remain perfect.
Things start to get more exciting because not only can the user influence dawn to dusk settings but also bring in weather changes.  The Finnex Planted 24/7 V2 LEDs are equipped with an IR remote which provides the user with the power to induce various lighting and closely replicated weather effects like raging thunderstorms, bright sunny days, dull cloudy days and also romantic moonlight effects. Controlling these light and weather modes is as easy as falling off a log. The buttons on the remote control are labeled to the T, thus making sure that the users are not subjected to even the tiniest of inconveniences.
The Finnex Planted 24/7 V2 LED fixtures are built with high quality aluminum. This metal exhibits its magic through its thermal insulation properties like ample cooling and superior heat dissipation. Its durability is kept into account by the usage of water resistant splash guard. Ranging from 20 to 48 inches, the fixtures are offered in various sizes and the user can choose the one that suits his specifications.
Finnex Stingray LED light 36 inch for 30 to 50 gallon starter tanks: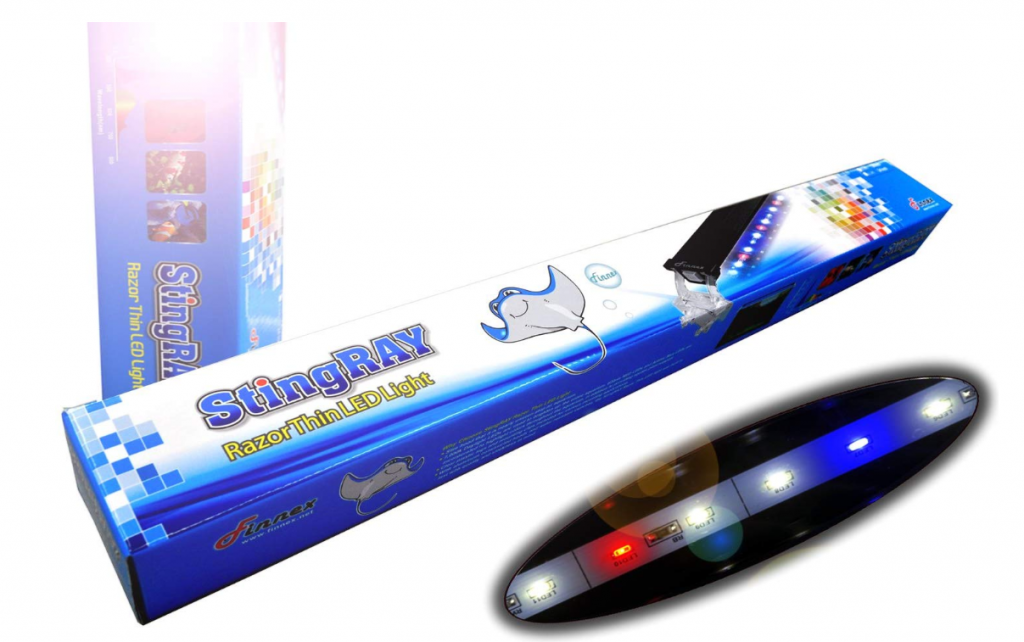 LEDs: This model of lighting from the Finnex franchise comprises of 40 daylight LEDs of 7000 K, 8 red LEDs of 660nm and 8 deep blue lights of 460 nm each having wattages of 20 Watts
Modes: The LEDs mostly produce daylight effects with a tri color blend
The entire length of the light measures to be 36 inches
These lights are ideal for 30 to 50 gallon aquariums with low light requiring plants
Seeking for a cheap planted aquarium LED light that just provides simple warm daylight to the plants and nothing more exotic than that? Well then, you are absolutely on the right direction. Finnex Stingray LED light is exactly what you should be purchasing because this is the best of its class, fulfilling all of the demanded requirements in the most economical way possible. The Finnex Stingray pack is full of 8 LEDs of 660 nm in red color which helps maximize the plant growth by providing suitable wavelengths for photosynthesis. Scientifically, the red light which lies in the wavelength range of 660nm of the visible region of the spectrum of light is considered to be one of the most suited wavelengths for photosynthesis to happen. This paramount factor which has also been proven experimentally is put to use in the Finnex Stingray LED lights. These lights, which as we already discussed boosts the rate of photosynthesis in plants through its technical specialties and one such thing is it potential to dispense the light in the red wavelength region.
This light is the most recommended choice for those low scale aquariums hosting not so exotic species. This is best for plants like moss, anubia and ferns. The design of this light is like a thin pencil and hence it is almost invisible when mounted on the tank. Mounting clips are available for this purpose, and to our surprise, the pack also includes clear plastic legs so that the user is entitled to multiple fixing options.
Beamswork DA FSPEC LED aquarium light 36 inch: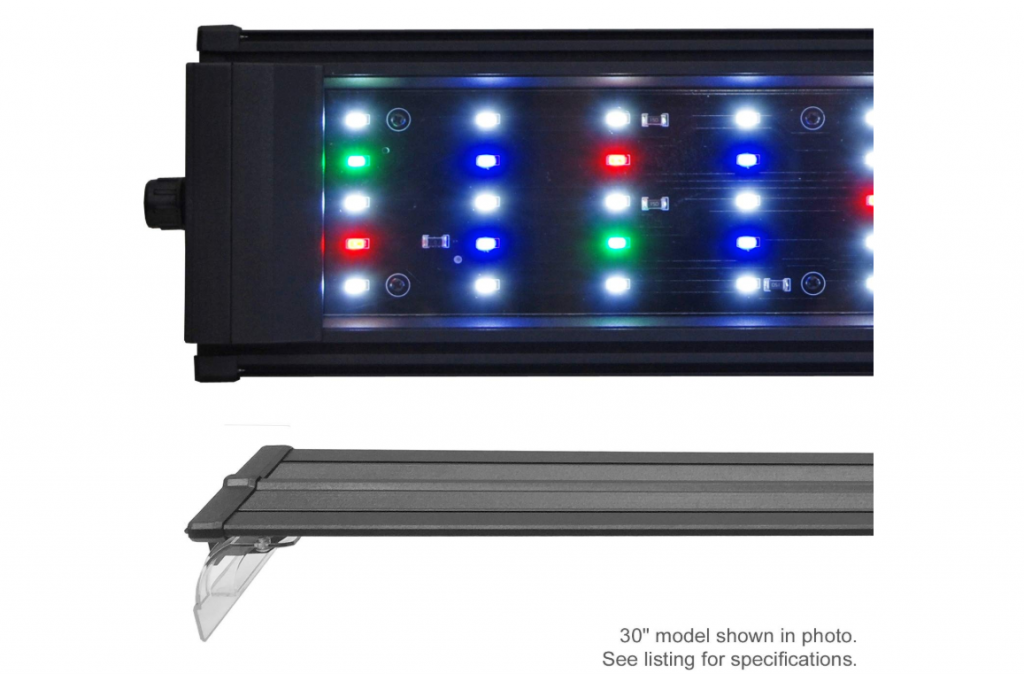 LEDs: This model of LED lighting consists of 70 white lights of 10000 K, 16 actinic lights of 460 nm, 8 red lights of 620 nm and 6 green lights of 520 nm each
Modes: Day and night modes are possible
The size of this LED light from Beamnswork measures 90 cm.
This light is ideal for fish, cichlid in a 30 to 50 gallon aquarium with medium too high light seeking plants
Beamswork DAFSPEC LED aquarium light features a very flat, thin and stylish design. LEDs with great variety in color are fitted here like red, white, green and actinic. There are 2 beautiful modes that are possible to be experienced with this pack. A full power daylight and a romantic moonlight mode would just sweep you off your feet just as immediately as your eyes lay on the beautifully lit aquarium. It has a lumen output of 5000, thereby making it the most ideal form of LED lighting for aquariums that have the capacity to hold 30 to 50 gallons of water. Your aquarium will be perfectly lit and also satisfy the lighting requirements of the aquatic flora and fauna.
There is an extra timer that can be purchased from the Beamswork separately. The light fixture is pre wired to work with this timer, which should be considered because of its variety uses. The timer also allows you to program, specific times for the night and day settings. This makes sure that the lighting cycle is set to follow the natural rhythm of day and night. The Beamswork LED light is very energy efficient and features long lasting LED bulbs that will not need replacements, period. It is a cheap and a reliable option for anyone who wants to have a stunning planted aquarium.
Current USA Orbit marine LED light for saltwater fish tanks: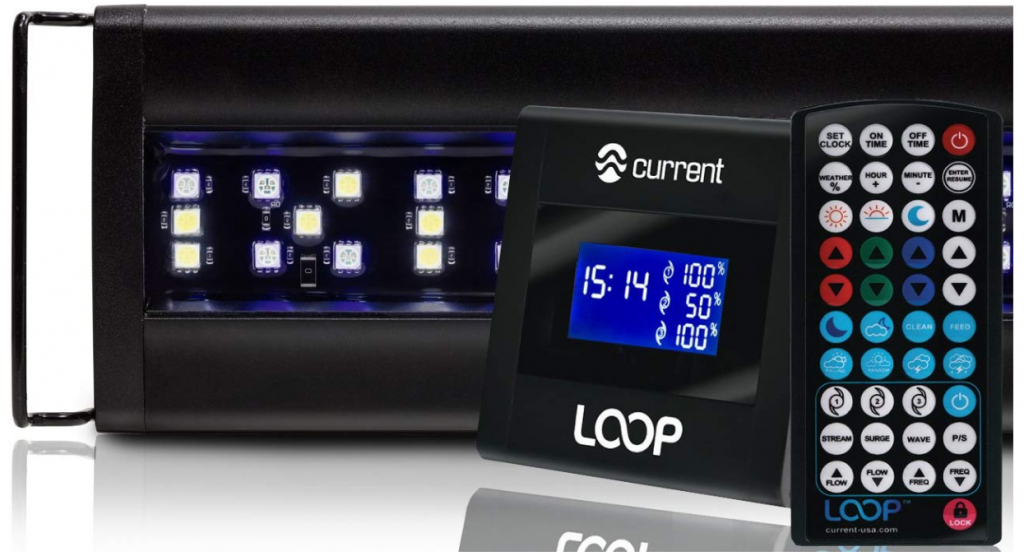 LEDs: This pack contains 72 dual daylight LEDs of 8000 K to 12,000 k. Along with this, there are 72 dual actinic lights of 445nm to 460nm. So, totally there are 144 LEDs of 23 Watt each
The lighting modes are automatic. The light cycles are flexibly customizable and the preset lighting effects and weather modes are ready to use
The light ha extendable brackets measuring 36 to 48 inches
This light is very ideal for marine fish, inverts, live rock, soft corals and also LPS corals
This version of LED lighting system is perfectly engineered to offer the best use in salt water fish-only tanks and reef tanks. An upgraded model from the Current USA franchise, this light pack makes the reef tank LEDs apart from its opponent because of the amount of variations and intensities it is capable of producing.  They provide stunning color spectrums that support the growth of healthy corals. To add on to all these facts, these LEDs are covered with 120 degree lens which offers better light coverage and color blending.
The current USA Orbit machine comes with a Ramp timer that allows you to program the light with a 24 hour cycle which puts your tank through a natural rhythmical cycle going through sunrise, sunset and moonlight.
Things start to get more exciting because not only can the user influence dawn to dusk settings but also bring in weather changes.  The USA Orbit machine are equipped with an IR remote which provides the user with the power to induce various lighting and closely replicated weather effects like raging thunderstorms, bright sunny days, dull cloudy days and also romantic moonlight effects. Controlling these light and weather modes is as easy as falling off a log. The buttons on the remote control are labeled to the T, thus making sure that the users are not subjected to even the tiniest of inconveniences.